TOMMY AND FRIENDS TO THE RESCUE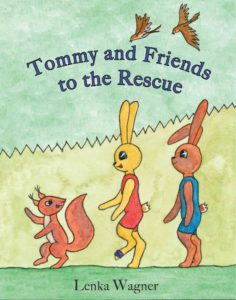 It is peaceful in the deep green forest until a giant pink beetle roars into the meadow. Three strange creatures appear from under its wings.
Who are they? What do they want?
Tommy meets humans for the first time. When they leave, his world is different. It's ugly and full of hidden danger. Can Tommy and his friends come to the rescue and bring peace to the forest again?
In Tommy and Friends to the Rescue, Tommy returns in his second forest adventure. What will he learn this time?
The story explores the impact humans can have on the environment, and how being small and insignificant doesn't mean you are also weak and helpless. For children aged 4-7
TO PURCHASE:
Australia:   Book Store at Jabiru Publishing http://www.jabirupublishing.com.au/childrens-books/
Amazon USA: click here, Amazon UK: click here.
If you would like a signed copy of either of the books, please email me directly.
TOMMY LEARNS A LESSON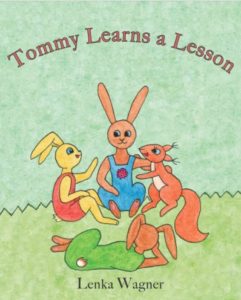 Tommy is a young rabbit. He believes he's the best rabbit in the forest. He believes he doesn't need any friends. He's happy on his own.
One day, he leaves his home, without telling anyone.  At first, everything is fine, but there is danger hiding in the forest, and soon Tommy finds himself in a difficult situation.  Even worse, he's all alone.
Will Tommy learn how important it is to have friends and a caring family before it's too late?
Tommy Learns a Lesson is a story about friendships and family, about accepting ourselves, and others, the way we are. For children aged 4-7
TO PURCHASE:
Australia:  Book Store at Jabiru Publishing http://www.jabirupublishing.com.au/childrens-books/